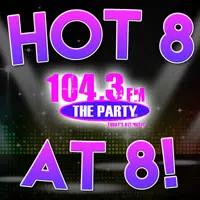 Once more it's Throwback Thursday! Of course to celebrate here on The Hot 8@8 Countdown with Smoky's House BBQ in Charleston, we'll have a retro-rewind track backwards for a chance at Smoky's in Pop Culture Trivia! Now this week it's been all about "Finesse" for Bruno and Cardi B have been at #1 for 3 nights now…check out below to see if they go a 4th…..
1. "Finesse" – Bruno Mars feat. Cardi B
2. "River" – Eminem feat. Ed Sheeran
3. "Filthy" – Justin Timberlake
4. "Never Be the Same" – Camila Cabello
5. "Love" – Kendrick Lamar
6. "Tell Me You Love Me" – Demi Lovato
7. "I Miss You" – Clean Bandit feat. Julia Michaels
8. "Lemon" – N.E.R.D feat. Rihanna
Four nights and counting, tomorrow they could very well go a solid week! Please remember you can help decide the outcome by casting a quick vote. Please call 217-844-HITS, text 217-218-0288, or leave your vote at The Party's Facebook Page!