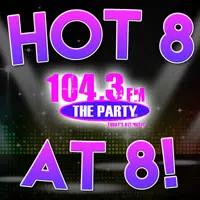 We've made it to another weekend! Welcome in to your Friday night show of The Hot 8@8 Countdown with Smoky's House BBQ in Charleston, your final show for the week of January 22nd through the 26th all part of The Night Club with Carman!!! Now this week, Bruno and Cardi B have been pretty unstoppable with "Finesse"…find out if they will go a week solid at #1 tonight! Check out the results…..
1. "Finesse" – Bruno Mars feat. Cardi B
2. "Filthy" – Justin Timberlake
3. "River" – Eminem feat. Ed Sheeran
4. "Tell Me You Love Me" – Demi Lovato
5. "Never Be the Same" – Camila Cabello
6. "I Miss You" – Clean Bandit feat. Julia Michaels
7. "Beautiful Trauma" – Pink (Re-Entry!)
8. "Lemon" – N.E.R.D feat. Rihanna
A re-entry tonight on the show from the one and only Pink!, Justin came close to reclaiming the #1 title…but it still belongs to Bruno's latest! When the show resumes on Monday night, once more you can have a say in how the songs fare out. Please remember to cast a vote. It's simple and quick to do so…either call 217-844-HITS, text 217-218-0288, or leave your vote at The Party's Facebook Page!