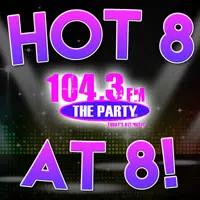 Happy Valentine's Day!!! Welcome in to your mid-point and "romantic" edition if you will of The Hot 8@8 Countdown with Smoky's House BBQ in Charleston all part of The Night Club with Carman! Now regardless of weather or not love is in the air for ya tonight, we've got a mix of love and hate songs for ya in the club, but right now it's about your votes for the hottest new tracks. For the past 2 nights Camila Cabello has been in our top spot with "Never Be the Same", check out your Wednesday night results below….
1. "Never Be the Same" – Camila Cabello
2. "The Middle" – Grey, Zedd, & Maren Morris
3. "Finesse" – Bruno Mars feat. Cardi B
4. "Pray For Me" – The Weeknd feat. Kendrick Lamar
5. "Wait" – Maroon 5
6. "Say Something" – Justin Timberlake feat. Chris Stapleton
7. "River" – Eminem feat. Ed Sheeran
8. "My, My, My" – Troye Sivan
No new entries tonight, however country has come onto the show with entries from Chris Stapleton and Maren Morris, but the star here tonight is Camila because "Never Been the Same" dominates for a third night in a row! Please remember weeknights you can help decide the outcome of the songs by casting your vote. Please do so from 5-7:30 p.m. CDT by either calling 217-844-HITS, texting 217-218-0288, or by leaving your vote at The Party's Facebook Page!