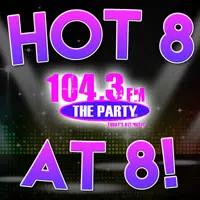 Happy Throwback Thursday! Hope everyone had a wonderful Valentine's Day and here in The Night Club with Carman…It's once more time for The Hot 8@8 Countdown with Smoky's House BBQ in Charleston! Of course given the day of the week we'll have a song backwards for Pop Culture Trivia, but first we have to reveal 8 of your most favorite songs as of lately. The past 3 nights it's been Camila Cabello at the top, find out below if she goes a 4th night….
1. "Never Be the Same" – Camila Cabello
2. "Finesse" – Bruno Mars feat. Cardi B
3. "The Middle" – Zedd, Grey, & Maren Morris
4. "Pray For Me" – The Weeknd feat. Kendrick Lamar
5. "Say Something" – Justin Timberlake feat. Chris Stapleton
6. "Wait" – Maroon 5
7. "River" –  Eminem feat. Ed Sheeran
8. "My, My, My" – Troye Sivan
Four nights in a row she does…Camila Cabello stays at the top of the show! If she goes a solid week, tomorrow you can help decide. When voting opens once more be sure to cast your vote. Do so weeknights from 5-7:30 p.m. CDT by either calling 217-844-HITS, texting 217-218-0288, or leave your vote at The Party's Facebook Page!