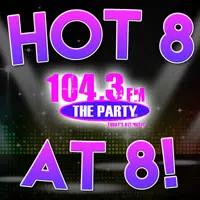 Finally Friday!!! Welcome back to The Night Club with Carman and your final Hot 8@8 Countdown with Smoky's House BBQ in Charleston for the week of February 12th through the 16th! Now this week it's been all about Camila Cabello for "Never Be the Same" has been dominate for the past 4 nights….find out below if she can go a 5th…..
1. "Never Be the Same" – Camila Cabello
2. "The Middle" – Zedd, Grey, & Maren Morris
3. "Finesse" – Bruno Mars feat. Cardi B
4. "Pray For Me" – The Weeknd feat. Kendrick Lamar
5. "Say Something" – Justin Timberlake feat. Chris Stapleton
6. "River" – Eminem feat. Ed Sheeran
7. "Wait" – Maroon 5
8. "Woman" – Ke$ha (Debut!)
Five nights in a row indeed! Also tonight, Ke$ha comes back on the show with her latest! Please remember weeknights you can have a say in how the songs rank. When the countdown resumes on Monday night once more please remember to vote. Please do so Monday through Friday from 5-7:30 p.m. CDT by either calling 217-844-HITS, texting 217-218-0288, or by leaving your vote at The Party's Facebook Page!