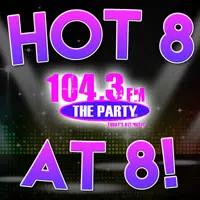 Welcome in to what I like to call your mid-point Hot 8@8 Countdown for the week with Smoky's House BBQ in Charleston! Welcome back to The Night Club with Carman and the final show for February 2018! Now last night we saw a new song take over the #1 spot…"Say Something" from Justin Timberlake and Chris Stapleton…will the two go a 2nd night or will "The Middle" climb it's way back to the top spot? Check out the results below!
1. "Say Something" – Justin Timberlake feat. Chris Stapleton
2. "The Middle" – Zedd, Grey & Maren Morris
3. "Pray For Me" – The Weeknd feat. Kendrick Lamar
4. "God's Plan" – Drake
5. "My My My" – Troye Sivan
6. "Whatever It Takes" – Imagine Dragons
7. "I Fall Apart" – Post Malone
8. "Never Be the Same" – Camila Cabello
No new entries tonight, but JT and Chris will end the month on positive note. Please remember weeknights you can help decide what makes the cut so please remember to vote once more as the March rounds kick off tomorrow night. Please vote from 5-7:30 p.m. CDT by either calling 217-844-HITS, texting 217-218-0288, or by leaving your vote at The Party's Facebook Page!