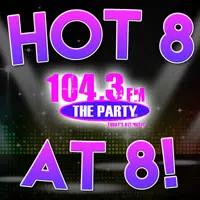 Happy Wednesday, March 21st! Welcome in to what I like to refer to as your mid-point Hot 8@8 Countdown with Smoky's House BBQ in Charleston all part of The Night Club with Carman! We've seen some big debuts and jumps so far this week with some of your favorite new tracks, so check out below to see if "Friends" from Marshmellow & Anne Marie will go a 3rd night at the top.
1. "Friends" – Marshmellow feat. Anne Marie
2. "No Excuses" – Meghan Trainor
3. "Whatever It Takes" – Imagine Dragons
4. "No Roots" – Alice Merton
5. "All the Stars" – Kendrick Lamar feat. SZA
6. "Want You Back" – 5 Seconds of Summer
7. "Mine" – Bazzi
8. "On the Loose" – Niall Horan (Debut!)
Niall Horan is back on the show tonight, but #1 is still about "Friends." That marks 3 nights now for the song. Please remember weeknights you can help decide the outcome by casting your vote from 5-7:30 p.m. CDT by either calling 217-844-HITS, texting 217-218-0288, or by leaving your vote at The Party's Facebook Page!