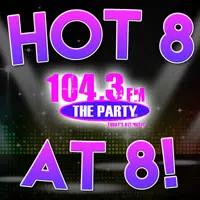 Happy Monday, March 26th!!! Hope you enjoyed the weekend and welcome back to another week of The Night Club with Carman and the Hot 8@8 Countdown with Smoky's House BBQ in Charleston! Now a little Monday night refresher from where we left things on Friday night…for the 5th consecutive night…a solid week…"Friends" from Marshmellow & Anne Marie went #1. Can they start a new week off just as strong? Check out what you helped decide for your Monday show below!
1. "No Excuses" – Meghan Trainor
2. "Friends" – Marshmellow feat. Anne Marie
3. "All the Stars" – Kendrick Lamar feat. SZA
4. "Mine" – Bazzi
5. "Want You Back" – 5 Seconds of Summer
6. "On the Loose" – Niall Horan
7. "No Roots" – Alice Merton
8. "Psycho" – Post Malone feat. Ty Dolla $ign (Debut!)
Starting off the week with one new entry and a new song at #1! Meghan Trainor has taken over "Friends" with "No Excuses!" Please remember anything can happen with the countdown when you help decide, so once more tomorrow please cast your vote. Do so weeknights from 5-7:30 p.m. CDT by either calling 217-844-HITS, texting 217-218-0288, or by leaving your vote at The Party's Facebook Page!