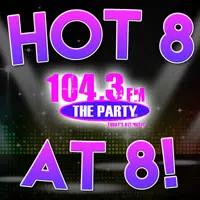 Throwback Thursday is back!!! Welcome into the Night Club with Carman, and after a couple days of filling in for the Party Nation Show, Carman is back tonight! We got another round of the countdown with Smoky's House BBQ results below plus for pop culture trivia an old school track backwards. Check out and see if Ariana Grande is still dominate with her reign below!
1. "No Tears Left to Cry" – Ariana Grande
2. "One Kiss" – Calvin Harris feat. Dua Lipa
3. "Done For Me" – Charlie Puth feat. Kehlani
4. "Sober Up" – AJR feat. Rivers Cuomo
5. "Love Lies" – Khalid feat. Normani
6. "Let Me" – Zayn
7. "These Days" – Rudimental feat. Jess Glynn, Macklemore & Dan Caplan
8. "Tattoo (How Bout You)" – In Real Life
The show has been fairly consistent lately, and the top 3 songs won't budge. Ariana Grande is still at the top that marks a grand total of 9 nights in a row now! Please remember weeknights you can help decide how the outcome plays out by casting your vote. Please do so weeknights from 5-7:30 p.m. CDT by either calling 217-844-HITS, texting 217-218-0288, or by leaving your vote at The Party's Facebook Page!