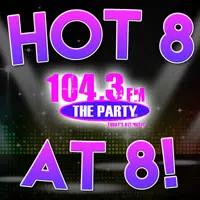 FRIDAY!!! It's the start to the extended Holiday Memorial Day Weekend and kicking it all off is the Hot 8@8 Countdown with Smoky's House BBQ in Charleston all part of The Night Club with Carman!!! Now last night we saw a fairly high debut from Drake and Ariana Grande take #1 with "No Tears Left to Cry" for a lucky 13th time! See below to see if she can close another week out strong and go 14 nights….
1. "No Tears Left to Cry" – Ariana Grande
2. "Sober Up" – AJR feat. Rivers Cuomo
3. "These Days" – Rudimental feat. Jess Glynn, Macklemore & Dan Caplan
4. "Love Lies" – Khalid feat. Normani
5. "Nice for What" – Drake
6. "Let Me" – Zayn
7. "Back to You" – Selena Gomez
8. "Tattoo (How Bout You)" – In Real Life
That marks 14 nights indeed! Grande is pretty unstoppable right now on the show, but the new Drake song is already a hot contender. Please remember Monday through Friday you have a say in how the songs fair out. Now we will take the night off from the show Monday (Memorial Day) but when the show resumes on Tuesday night, please cast  your votes once more. Do so from 5-7:30 p.m. CDT by either calling 217-844-HITS, texting 217-218-0288, or by leaving your vote at The Party's Facebook Page!
Have a great and safe Memorial Day Weekend, and enjoy the flashback tunes with The Party's Retro-Rewind Memorial Day Weekend!!! 🙂
~Carman