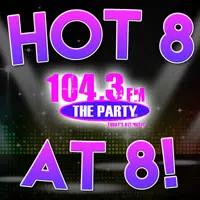 Happy Throwback Thursday, June 28th! Welcome back into The Night Club with Carman and another round of The Hot 8@8 with Smoky's House BBQ in Charleston! Now last night Maroon 5 and Cardi B went a 2nd night at #1 with "Girls Like You." Cardi has had quite a few appearances on the show as of late, so check out below to see where she all falls tonight and see if any new entries made their way onto the countdown….
1. "Girls Like You" – Maroon 5 feat. Cardi B
2. "I Like It" – Cardi B
3. "Better Now" – Post Malone
4. "Young Blood" – 5 Seconds of Summer
5. "Back To You" – Selena Gomez
6. "Growing Pains" – Alessia Cara
7. "Nice For What" – Drake
8. "Dinero" – Jennifer Lopez feat. DJ Khaled & Cardi B (Re-Entry!)
A re-entry tonight for JLO, and Cardi B is featured on the top two tracks! Please remember, weeknights you can vote for your favorite songs from 5-7 p.m. CDT by either calling 217-844-HITS, texting 217-218-028, or by leaving your vote at the Party's Facebook Page!