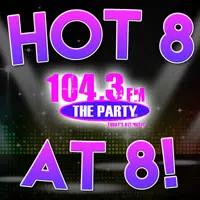 Happy Monday! It's time for the first Hot 8@8 Countdown for July 2018 with Smoky's House BBQ in Charleston! Welcome back to The Night Club with Carman and your Monday night refresher…Friday night we saw "Girls Like You" from Maroon 5 and Cardi B take #1 for a 4th consecutive night. Will they start the new week and month of strong? Remember Cardi B had 3 entries on the show Friday as well….
1. "I Like It" – Cardi B
2. "Girls Like You" – Maroon 5 feat. Cardi B
3. "Better Now" – Post Malone
4. "Young Blood" – 5 Seconds of Summer
5. "Growing Pains" – Alessia Cara
6. "Dinero" – Jennifer Lopez feat. DJ Khaled & Cardi B
7. "Fake Love" – BTS
8. "Home With You" – Madison Beer (Debut!)
New entry from newcomer Madison Beer, and Cardi B is still #1, but this time with "I Like It!" That marks one night at the top, can she go two tomorrow? Please remember weeknights you can cast your vote from 5-7:30 p.m. CDT by either calling 217-844-HITS, texting 217-218-0288, or by leaving your vote at The Party's Facebook Page!