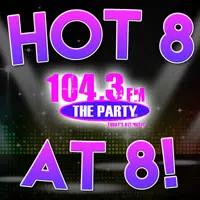 Throwback Thursday is here! Welcome back to The Night Club with Carman and of course another round of The Hot 8@8 with Smoky's House BBQ in Charleston! Now last night kicking off August "Remind Me to Forget" still continued its reign on the show, see if they go a 9th night #1 again tonight….
1. "In My Feelings" – Drake
2. "I'm a Mess" – Bebe Rexha
3. "Remind Me to Forget" – Kygo feat. Miguel
4. "Drew Barrymore" – Bryce Vine feat. Miguel
5. "Bed" – Nicki Minaj feat. Ariana Grande
6. "Soulmate" – Justin Timberlake
7. "Lie" – NF
8. "Nevermind" – Dennis Lloyd
Again, no new entries tonight, but we do have a new song at #1! Just 4 nights on the show and Drake has already reached the top with "In My Feelings." Bebe Rexha is close behind with another fast mover as well, so see which one battles it out to end the week strong tomorrow night. Please remember to cast your ballots weeknights from 5-7:30 p.m. CDT by either calling 217-844-HITS, texting 217-218-0288, or by leaving your vote at The Party's Facebook Page!